Wolfgang Eliasch erhält WDSF Outstanding Service Award
Der WDSF Vizepräsident für Sport, Nenad Jetftic (SRB) überreicht den WDSF Outstanding Service Award an den ÖTSV-Vizepräsidenten Wolfgang Eliasch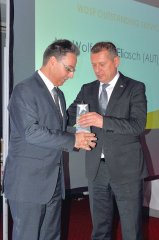 "It is my great pleasure to present the WDSF Outstanding Service Award to a gentleman who is involved in DanceSport for many years, he served the Austrian DanceSport Federation as a long term Sports Director and now as Vice President for Foreign Affairs. In WDSF he accepted the assignment to be a member of the Sports Commission.

Mr. Eliasch was a DanceSport Athlete himself, now he holds a WDSF Adjudicators License and Chairperson. In this function the correct management of competitions is one of his top priorities.
He developed the very helpful handbook for chairpersons.Since 2 years he serves WDSF as Chair of the Sports Policies Developement Committee contributing to sporting rules.
Maybe you want to know, that he is in a responsible professional position in an Assurance Company. In his spare free time he is dedicated to DanceSport and working for the interests of adjudicators and organisers."
(Fotocredit: T. Estler)
THALLINGER Gerald, GT / 19.06.2019
News: ÖTSV allgemein